Hello and welcome,
Are you looking for a great way to teach your people about social media marketing?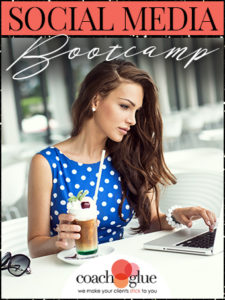 The lovely ladies over at Coach Glue are offering a nice BIG discount on their new Social Media Bootcamp. This is a full-blown coaching program including sales + marketing materials that you can use to teach your people how to finally start getting results from their social campaigns.
Use can use their content to create your own digital workshop, bootcamp or ecourse. There is so much content in this that you can even go offline and host a weekend workshop complete with a power-point presentation, lessons and workbooks to teach your attendees!
You'll Get an Entire Workshop with 4 Training Modules + 4 Fast Action Plan Worksheets & Exercises + 4 Program Accelerator Checklists + 4 Sets of PowerPoint Slides
Right now you can save big on the Social Media Bootcamp & teach your peeps how to conquer overwhelm & finally get real results!
You can see everything that's included here
For a limited time you can use the coupon code 77
Thanks so much for reading. I appreciate you and I hope you have a wonderful day,
Lisa M Cope
Looking for great resources to grow your business?
Look here: http://lisamcope.com/resources
If you have any questions about any of the products or content in this post please let me know. I want you to be able to put them to good use and I'll be glad to help!
Need help: http://www.lisamcope.com/help