Hello and welcome to this week's Monday Minutes. Each week in this series I am going to share simple tips that you can implement quickly to help your business become more successful.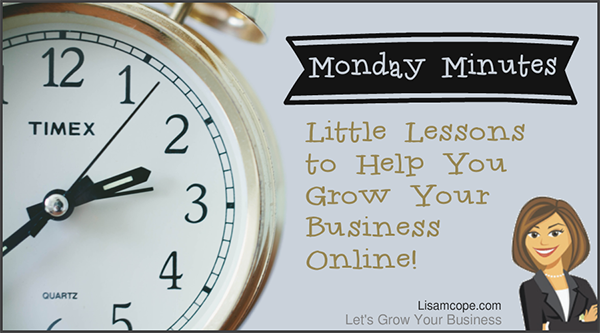 This week's tip is all about email deliverability and we're going to go over a few tips that will help you get your emails opened and read by your subscribers.
Deliverability: is a way to measure the success at which an email marketer gets a campaign into subscribers' inboxes. It involves anything that touches email delivery, like ISPs, MTAs, throttling, bounces, bulking, and spam issues ~ Mailchimp

FACT: You spend a lot of time each week writing emails to your subscribers, but none of that will do you any good if you don't have a decent delivery rate.
If your emails land in their spam folders, you don't have much of a chance of making a sale or building a relationship with them, so in this post I'm going to share some easy to implement tips that will help insure that your emails actually make it to your subscribers' inboxes.
First, use a reputable service
Using a reputable autoresponder service is the single best thing you can do to improve your chances of avoiding spam folders. Companies like Aweber, Mail Chimp and GetResponse work hard at making sure they are white listed with the big Internet Service Providers and email providers like Gmail.
Most autoresponder companies will list their delivery stats. In addition the good ones will make sure your emails are compliant, provide you with tips and tools that will help keep you out of hot water.
Set expectations
Your chances of staying in the main inbox are high when your subscribers regularly open your email. The best way to insure that outside of providing great content that your readers look forward to reading is to set expectations from the beginning.
An easy way to do this is to let them know early on when and how often they can expect an email from you. You can also let them know when they will hear from you again at the end of your email. For example, look for another email from me on Monday where I will share some more great tips with you.
Once you've set those expectations do your best to meet them. Of course, things happen every once in a while. In general though, do your best to keep your promise and email when your readers expect it.
Doing this regularly will improve your open rates and your overall deliverability.
Clean your list regularly
Another good habit is to clean up your list regularly. If subscribers haven't been opening your emails for the past six month, chances are they're no longer interested in what you have to offer, so delete them or move them to another list where you can try to revive their interest without hurting the deliverability rates of your main list.
If you aren't sure how to do this check the help files of your autoresponder service to see how you can go about deleting or moving anyone that hasn't opened an email from you in the past six months to a year depending on what type of business you have.
Following these tips and keeping an eye on your email deliverability rates in general will make sure your emails are being read by your subscribers and that's the point of email marketing, isn't it?
If you like this post please comment, share and fill out the short form on this page to subscribe to my list so I can send you even more tips, information and blog updates that will help you grow your business online!
Thank you for reading,


Save
Save
Save
Save