Hello and welcome to this week's Monday Minutes. Each week in this series I am going to share simple tips that you can implement quickly to help your business become more successful.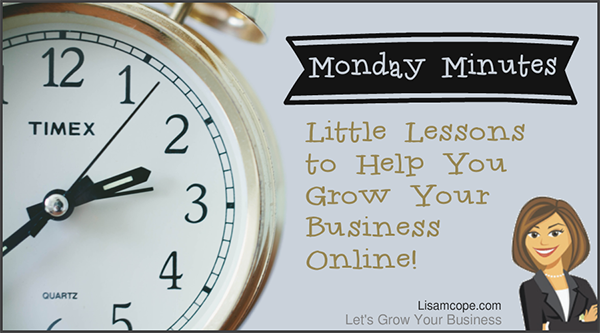 This week's tip is all about tech support and we are going to talk about busting through technical roadblocks that holding you back.
"No man is an island, entire of itself; every man is a piece of the continent,
a part of the main" ~John Donne
No one can know and do it all. And when you're in business, you know there are a lot of things that all have to be managed. Websites, shopping carts, email managers, video editing, copywriting, and file storage and the list goes on.
And here's where many new (and even some established) business owners lose a little bit of control. They try to bootstrap everything. Need a new website? They build it. Starting an affiliate program? They install it. Creating a video training series? They buy Camtasia; spend weeks learning it, and more weeks recording and editing video.
While there's a lot to be said for self-sufficiency, there comes a point where you simply have to decide which tasks are giving you the best ROI, and let go of the rest.
As my friend and mentor Nicole Dean from Awesomization Nation says, "If you're a fish, stop trying to fly. Do what you're good at, and let others handle the rest."
And here's why. You're wasting valuable time and energy trying to do it all yourself. Take a quick look at this free calculator to find out what your time is really worth, and you'll very quickly discover that paying someone to edit your videos or update your website is a worthwhile investment.
Now that's not to say that you shouldn't know anything about the techy stuff that runs your business. You absolutely should. It's nearly impossible to outsource work if you don't have some idea of the work that needs to be done.
What that means is, you need to have an overview. You need to know where you're going and have a basic idea of the steps that will get you there. You need to know that these things are possible, but you don't necessarily need to know how to do them.
For example, if you're using Infusionsoft, and you want to send an email with a link that, when clicked, will automatically add the reader to a new campaign, then all you need to know is that it can be done. You don't have to understand the mechanics behind it or be able to set it up yourself.
That's what your VA is for.
And if you're really thinking ahead (and I know you are) then you'll also have your VA document the steps she's using to complete the task. As part of her job, she should be helping to build your operations manual. That will make it easier for everyone on the team to get more done in less time, which in turn will save you money.
So stop fighting with technology. Learn only what you must know to do your job, and hand the rest over to someone who can do it faster and better. Then you can spend your time bringing in the money.
If you like this post please comment, share and fill out the short form on this page to subscribe to my list so I can send you even more tips, information and blog updates that will help you grow your business online!
Thank you for reading,

Check out last weeks Monday Minutes here!
Don't forget to check out this weeks sponsor White Label Perks
Your Source for High-Value White Label PLR Content
Save
Some of the links in the post above are "affiliate links." This means if you click on the link and purchase the item, we will receive an affiliate commission. Regardless, we only recommend products or services we believe will add value to our readers.