Topic: Make Your Calls To Action Pop! This easy to install and use WordPress plugin makes it almost impossible for your visitors not to click on your CTA's!
Hello there,
I am so psyched  about this plugin. It has so much potential. It can turn your posts and pages into animated action machines with it's easy drag and drop interface.
I'll admit, when I first saw this plugin I thought "oh no" not another one! Then as I was browsing the salespage I got to thinking about all of the different ways I could use it, but it wasn't until I watched the video below that I was hooked on the possibilities.
Watch This: It's a little long, but mesmerizing!

Here are a few things that caught my eye:
It's an easy to install WordPress plugin
Design from your WordPress dashboard
It's drag and drop easy to use
It creates content that demands attention
You can create custom animations that actually work
It's loaded with built in templates and elements for fast designs
No prior knowledge or tech skills required
You can create all kinds of calls to action like these with a few clicks!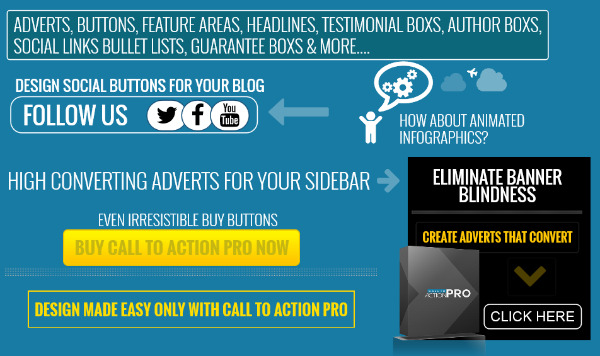 You Can Also:
Import custom images
Import font icons in any color
Use any Google font
Create on hover effects for all of the elements
Add cool animations to any element
Link any of the elements to any URL
Plus it's responsive across multiple devices
What I really like about this plugin is that it works right inside your WordPress dashboard and once you get your design done you can add it to any post with a quick copy and paste. You can't get much easier than that!
Full Disclosure:
Since Call To Action Pro is brand new I haven't had a chance to fully test how it effects conversions, but I can only imagine that it will improve them simply because it makes calls to action hard to ignore. I will be sure to update you this post with my testing results as they come in.
Bottom line: This is a really slick plugin that will not only save you a ton of time and money it's also a lot of fun to play with. If you are reading this during the initial launch you can get lifetime access on either the single site or multi-site license for a very affordable one-time payment. 

If you want a great way to jazz up your CTA's I highly recommend you check it out ASAP! Once you put it to work on your site you can sit back and watch your conversions, opt-ins, and sales grow!
Enjoy,
Lisa M Cope
Some of the links in the post above are "affiliate links." This means if you click on the link and purchase the item, we will receive an affiliate commission. Regardless, we only recommend products or services we believe will add value to our readers.