Hello there, I hope you're having a fantastic day today 🙂
Do you ever wonder how the BIG name marketers manage to do all those profitable webinars that they use to attract hordes of new customers? 
It's because they make them Evergreen!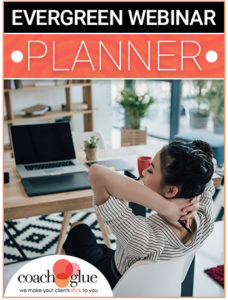 Well the lovely ladies from Coach Glue  created a brand new planner (and if you hurry you can grab it on sale) that will help you learn exactly how to create those profitable webinars yourself.
Evergreen webinars to be precise. This simply means, that it isn't a one-time webinar, but one that works for you for months to come creating true passive income. 
 What can evergreen webinars do for you and your clients? 
Grow your lists in a huge way.

Establish expertise to new audiences.

Give your JV partners or affiliates an opportunity to promote your webinar whenever they need something awesome to tell their people about, growing your reach.
Make sales from your webinar every week, month, and year ongoing.
The benefits are huge! And right now you can get this new planner at a huge discount.
Click here to Get the Brand NEW Planner and Save!

There are so many cool things you can do with this planner too.
Here are 7 ideas to get you started…
Use it to plan your own money-making evergreen webinar. What is the value of getting new leads and sales week after week and month after month with your own webinar? It's huge!
After you've used the planner, put together a case study based on your own results and sell your system as a workshop or ecourse or webinar.
Create an optin from a portion of this planner to grow your lists.
Gather experts and host a telesummit about webinars or list building and use this planner as one of your upsells.
Offer this planner and a quick tutorial video as a bonus when people purchase your favorite webinar tool through your affiliate link.
Design a 7 day challenge around this planner (or an 8 week ecourse) walking your audience through each step with a video, audio, or guest expert interview.
Work through this planner with your clients to help them create their own evergreen webinar. Once it's planned offer them a package where you'll implement it for them (or have your team implement it).
If your super fast and luck you won't miss the discounted savings, so click the link below to get your copy.
Click here to Get the Brand NEW Evergreen Webinar Planner Now!
Thanks so much for reading. I appreciate you and I hope you have a great day.
Until later,
Lisa M Cope
Looking for great resources to grow your business?
Look here: http://lisamcope.com/resources
If you have any questions about any of the products or content in this post please let me know. I want you to be able to put them to good use and I'll be glad to help!
Need help: http://www.lisamcope.com/help
Some of the links in the post above are "affiliate links." This means if you click on the link and purchase the item, we will receive an affiliate commission. Regardless, we only recommend products or services we believe will add value to our readers.